NSW CHS State Championships - 2006
Boys
Albury: 23 – 25 May
Many thanks to Riverina Area for hosting a great carnival and to three of their tireless workers: Mick Forsyth, Rick O'Connell and Rick Porter. Three days of brilliant sunshine and balmy temperatures produced great football.
The favourite to win the carnival after the first day was Sydney South West but on the third morning they lost their semi final to Hunter in an exciting penalty shoot-out.
The eventual winner of the carnival was Sydney East; congratulations to Peter Slater and his group of players.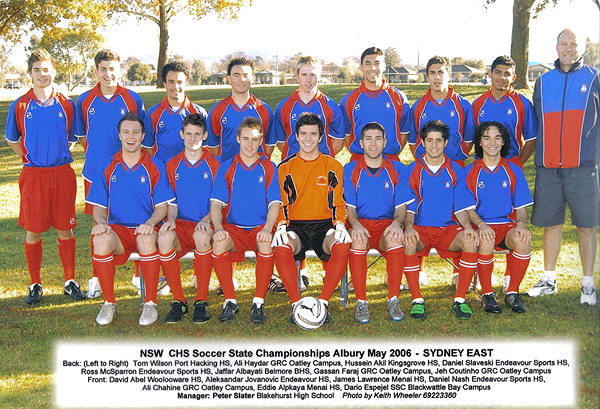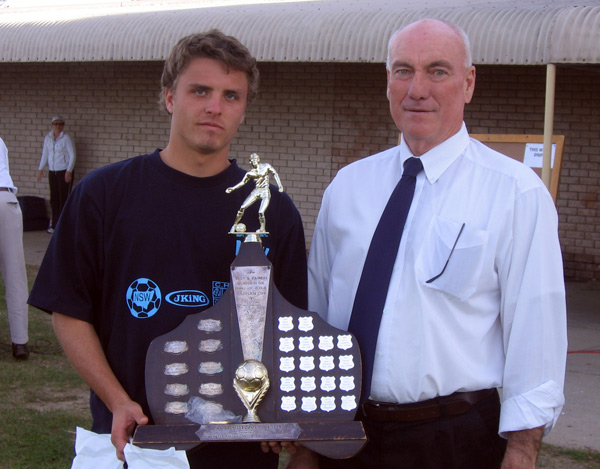 Player of the Tournament, Ben Gough, with CHS President, Michael Chapman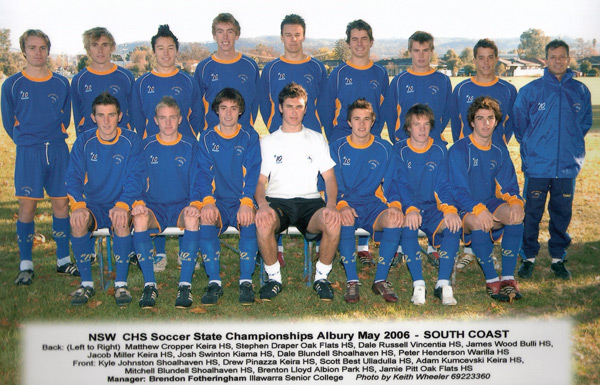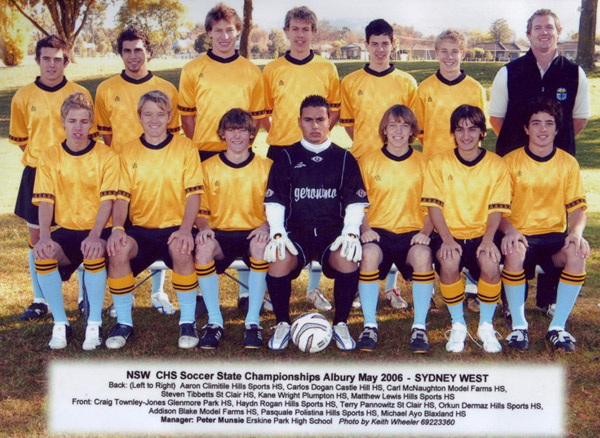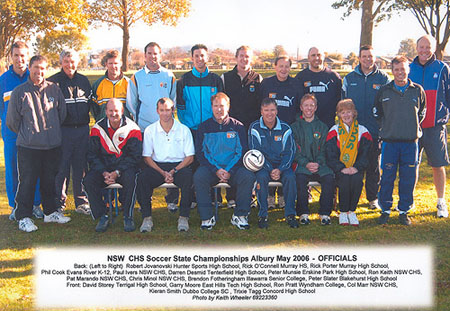 Participating Teams
| | |
| --- | --- |
| Sydney North | Sydney East |
| Sydney South West | Hunter |
| Sydney West | South Coast |
| North West | North Coast |
| Riverina | Western |

Results
Day 1 Tuesday 23 May 2006
Pool A

9.30 am

| | | | | | | |
| --- | --- | --- | --- | --- | --- | --- |
| Pitch 1 | Sydney South West | 4 | . | def | Riverina | 1 |

Pool A

10.30 am

| | | | | | | |
| --- | --- | --- | --- | --- | --- | --- |
| Pitch 1 | Sydney North | 1 | . | drew | North West | 1 |

Pool A

11.30 am

| | | | | | | |
| --- | --- | --- | --- | --- | --- | --- |
| Pitch 1 | Sydney West | 3 | . | def | Riverina | 0 |

Pool A

12.30 pm

| | | | | | | |
| --- | --- | --- | --- | --- | --- | --- |
| Pitch 1 | Sydney South West | 5 | . | def | North West | 1 |

Pool A

1.30 pm

| | | | | | | |
| --- | --- | --- | --- | --- | --- | --- |
| Pitch 1 | Sydney West | 2 | . | drew | Sydney North | 2 |

Pool B

9.30 am

| | | | | | | |
| --- | --- | --- | --- | --- | --- | --- |
| Pitch 2 | North Coast | 0 | . | drew | South Coast | 0 |

Pool B

10.30 am

| | | | | | | |
| --- | --- | --- | --- | --- | --- | --- |
| Pitch 2 | Hunter | 1 | . | drew | Sydney East | 1 |

Pool B

11.30 am

| | | | | | | |
| --- | --- | --- | --- | --- | --- | --- |
| Pitch 2 | North Coast | 1 | . | def | Western | 0 |

Pool B

12.30 pm

| | | | | | | |
| --- | --- | --- | --- | --- | --- | --- |
| Pitch 2 | Hunter | 2 | . | def | South Coast | 0 |

Pool B

1.30 pm

| | | | | | | |
| --- | --- | --- | --- | --- | --- | --- |
| Pitch 2 | Sydney East | 3 | . | def | Western | 0 |
Day 2 Wednesday 24 May 2006
Pool B

9.30 am

| | | | | | | |
| --- | --- | --- | --- | --- | --- | --- |
| Pitch 1 | Hunter | 3 | . | def | Western | 1 |

Pool B

10.30 am

| | | | | | | |
| --- | --- | --- | --- | --- | --- | --- |
| Pitch 1 | Sydney East | 1 | . | def | North Coast | 0 |

Pool B

11.30 am

| | | | | | | |
| --- | --- | --- | --- | --- | --- | --- |
| Pitch 1 | South Coast | 4 | . | def | Western | 0 |

Pool B

12.30 pm

| | | | | | | |
| --- | --- | --- | --- | --- | --- | --- |
| Pitch 1 | Hunter | 2 | . | def | North Coast | 0 |

Pool B

1.30 pm

| | | | | | | |
| --- | --- | --- | --- | --- | --- | --- |
| Pitch 1 | Sydney East | 2 | . | def | South Coast | 0 |

Pool A

9.30 am

| | | | | | | |
| --- | --- | --- | --- | --- | --- | --- |
| Pitch 2 | North West | 0 | . | drew | Sydney West | 0 |

Pool A

10.30 am

| | | | | | | |
| --- | --- | --- | --- | --- | --- | --- |
| Pitch 2 | Sydney South West | 0 | . | drew | Sydney North | 0 |

Pool A

11.30 am

| | | | | | | |
| --- | --- | --- | --- | --- | --- | --- |
| Pitch 2 | Riverina | 2 | . | def | North West | 1 |

Pool A

12.30 pm

| | | | | | | |
| --- | --- | --- | --- | --- | --- | --- |
| Pitch 2 | Sydney South West | 3 | . | def | Sydney West | 0 |

Pool A

1.30 pm

| | | | | | | |
| --- | --- | --- | --- | --- | --- | --- |
| Pitch 2 | Sydney North | 0 | . | drew | Riverina | 0 |
Day 3 Thursday 25 May 2006
Semi Final 1

9.00 am

| | | | | | | |
| --- | --- | --- | --- | --- | --- | --- |
| Pitch 1 | Hunter | (0) 12 | . | def | Sydney South West | (0) 11 |

Semi Final 2

9.00 am

| | | | | | | |
| --- | --- | --- | --- | --- | --- | --- |
| Pitch 2 | Sydney East | 1 | . | def | Sydney West | 0 |

Play Off 9th & 10th

10.30 am

| | | | | | | |
| --- | --- | --- | --- | --- | --- | --- |
| Pitch 1 | Western | 4 | . | def | North West | 0 |

Play Off 7th & 8th

10.30 am

| | | | | | | |
| --- | --- | --- | --- | --- | --- | --- |
| Pitch 2 | North Coast | 1 | . | def | Riverina | 0 |

Play Off 5th & 6th

11.30 am

| | | | | | | |
| --- | --- | --- | --- | --- | --- | --- |
| Pitch 2 | South Coast | 0 | . | drew | Sydney North | 0 |

Final

12.40 pm

| | | | | | | |
| --- | --- | --- | --- | --- | --- | --- |
| Pitch 1 | Sydney East | 1 | . | def | Hunter | 0 |
NSW CHS BOYS SOCCER 1st TEAM
| | | | | |
| --- | --- | --- | --- | --- |
| | Andrew Redmayne | Lisarow HS | Ben McNamara | Hunter Sports HS |
| | Alex Stoimanovski | Westfield Sports HS | Matt Jurman | Westfield Sports HS |
| | Nathan Sherlock | Bossley Park HS | Blake Glennie | Hunter Sports HS |
| | Daniel Slaveski | Endeavour Sports HS | Marco Jesic | Westfield Sports HS |
| | Glen Trifiro | Westfield Sports HS | Andrew Miles | Kincumber HS |
| | James Lawrence | Menai HS | Ben Gough | Westfield Sports HS |
| | Stefan Donevski | Westfield Sports HS | Andrew Christiansen | Narrabeen Sports HS |
| | Pasquale Polistina | The Hills Sports HS | Aaron Mooy | Westfield Sports HS |
NSW CHS BOYS SOCCER 2nd TEAM
| | | | | |
| --- | --- | --- | --- | --- |
| | Jacob Miller | Keira HS | Daniel Firth | Westfield Sports HS |
| | Chris Gomez | Westfield Sports HS | Brady Smith | Henry Kendall HS |
| | Aleksandar Jovanovic | Endeavour Sports HS | David Rowinski | East Hills Boys HS |
| | Tom Brandon | Cherrybrook HS | Joshua Birch | Glendale HS |
| | Sean Mitchell | Westfield Sports HS | Steven Tibbets | St Clair HS |
| | Blake Addison | Model Farms HS | Sebastian Ryall | Narrabeen Sports HS |
| | Brent McGrath | Westfield Sports HS | David Abel | Woolooware HS |
| | Adam Kumcevski | Keira HS | Daniel Nash | Endeavour Sports HS |
Coach NSW CHS 1sts - Dave Storey - Terrigal HS
Manager NSW CHS 1sts - Paul Ives - Taree HS
Coach NSW CHS 2nds - Pat Marando -
Manager NSW CHS 2nds - Garry Moore - East Hills Technology HS